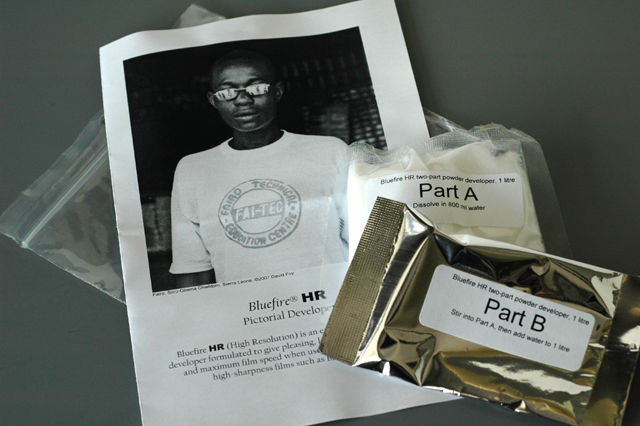 Bluefire™ HR
An ultra-soft developer for long, soft pictorial gradation with ultra-fine grain films like Bluefire Police, Kodak Tech Pan, and microfilms. To learn more about this developer, go to the Bluefire catalog page (click here).
1-litre size Bluefire HR. Packaged in 2-part dry powder form. Mix with tap water to make 1 litre (1 quart) of concentrate. Dilute concentrate 1:16 to make one-time-use working solution (add 15 ml concentrate to 235 ml water to process one roll of 35mm). Sufficient to develop 66 rolls of 35mm film.
---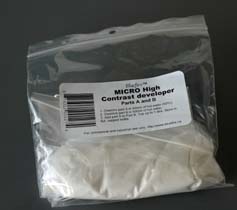 Bluefire™ Micro
A high-contrast microfilm-style developer for hard blacks, hard whites, and little if any gray scale from ultra-fine grain films like Bluefire Police, Kodak Tech Pan, and microfilms. To learn more about this developer, go to the Bluefire catalog page (click here).
---
1 litre size Bluefire Micro, 2-part dry developer powder to be mixed with tap water. Long shelf life and excellent working capacity.
---

Photographic fixer, dry powder mix. Makes 1 litre (1 US quart). Ideal formula for fixing all modern black and white films, papers, or spreadable photographic emulsions. This is standard sodium thiosulfate fixer, not ammonium "rapid" fixer, so be sure to give your film adequate time in the fixer, at least five minutes. Washes out in three to five minutes if you use a sodium sulfite wash aid, but if no wash aid is available, a fifteen minute wash will be adequate.
Product NA-423, Standard Sodium thiosulfate non-hardening fixer crystals, 1-litre size



---
Bluefire SpotStat™
third-generation wetting agent
---
Highly effective because it incorporates the latest advances in surfactant technology. Rapid drying, anti-streaking, anti-static, non-foaming, non-ionic, neutral pH, and biodegradable, this third-generation formulation uses a mixture of non-toxic linear ethoxylated alcohols instead of conventional glycols.
---
Highly economical because it is highly concentrated. Use one or two drops in 250 ml (1/2 US pint) of water. Most users find one drop is sufficient, but local conditions may require two. Distilled or deionized water is recommended but not required.
One 15ml bottle yields 600 drops, which means it treats 75 to 150 litres (75,000 to 150,000 ml) of water (150 litres is more than 39 US gallons or 32 Imperial gallons) of final rinse for films.
This is a dilution ratio of between 1:5,000 and 1:10,000. Compare this to conventional, first-generation photo wetting agents (such as Kodak® Photoflo™) that are diluted 1:200. 16oz (473ml) of conventional wetting agent diluted 1:200 makes up 25 gallons of rinse, compared to 39 gallons from 15ml (1/2 oz) of Spotstat.
A 15ml bottle of Spotstat treats 300 to 600 35mm films.

A 250ml bottle is highly economical for commercial, educational, and industrial laboratories.
Spotstat should be measured and dispensed with care; too little or too much can cause uneven drying. Any standard eye-dropper should be sufficiently accurate.
---
Why you should use a wetting agent:
A water spot which dries on a photographic gelatin surface can cause irreversible deformation of the gelatin, and these spots become obvious when the image is enlarged. The deformations, which resemble microscopic moon craters, are permanent: soaking the film and re-drying it does not moderate or remove the defect — in fact, there is no known remedy of any kind.
A wetting agent is essential to reduce or eliminate water spots on negatives. Immerse your washed film (still on its processing reel) in diluted Spotstat for one minute, with agitation. Then shake the film sharply to remove all of the water droplets that you can remove. Then remove from the reel and hang in a dust-free place to dry. The remaining wash water flows off slowly in thin streams, with nothing left behind to damage your images.
(Why use a specialized photographic wetting agent instead of mild dish detergent or soap? Because even the purest detergents and soaps leave a residual film.)
Please note: do not substitute Spotstat or any other surfactant for the stabilizer rinse in C-41 processing. It is true that C-41 stabilizers are wetting agents, but they also contain substances which neutralize residual color dyes and prevent long-term color deterioration.
Product SP-15
SpotStat wetting agent, 15ml size, in a dropper-style bottle that delivers 0.025ml per drop.


Product SP-250
SpotStat wetting agent, 250ml bottle.



---
Click here to download complete instructions (requires Adobe Acrobat reader)
Click here to download the MSDS.
Other uses for Spotstat wetting agent:
removing ink from skin and clothing

cleaning clogged inkjet printer heads

cleaning old analog recordingss (78s, 45s, vinyl LP, and Edison cylinder)

applying decals, enhancing the flow of glue

washing antique glassware, mirrors, and windows

any cleaning task that requires neutral pH and no residue.