That 110 camera has a lot of life left!
Although thrift shops are no longer overflowing with 110 cameras the way they once were, some highly useful cameras show up fairly regularly, and are still being actively traded among camera collectors on auction sites.
---
There are essentially three quality levels available.
The least expensive, and least capable, but arguably the most enjoyable, are the cheap, basic minicameras, so tiny that they don't even have film compartments — you clip the film cartridge directly onto the back of the camera.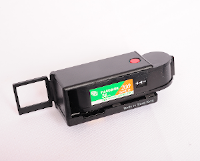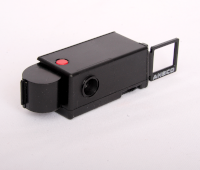 The Ansco 50 cameras have a simple shutter that operates at about 1/200 of a second. The non-adjustable meniscus lens is surprisingly sophisticated. It is precision-molded from optical acrylic, and is designed to give in-focus images of objects between about four feet and fifty feet away, with minimal distortion. Most other similar minicameras have less capable lenses.
These charming little pocket-sized machines are not the cameras to use if you are after high technical quality in your images. They are the cameras to use if you want a camera you can carry in your pocket, that gives you memorable, real-world, charming images that you stumble upon in your neighborhood, or at the skate park, or wherever the streetscape is begging to be documented and a conventional camera is impractical or out of place.
---
The next step up in quality is not as much fun to carry, and quite a bit bigger, but you get images with better technical quality. These are undoubtedly the kind of 110 cameras that you're most likely to find for sale online, in thrift stores, or at garage sales. Here are three examples, from the circa 1975 Kodak Trimlite series: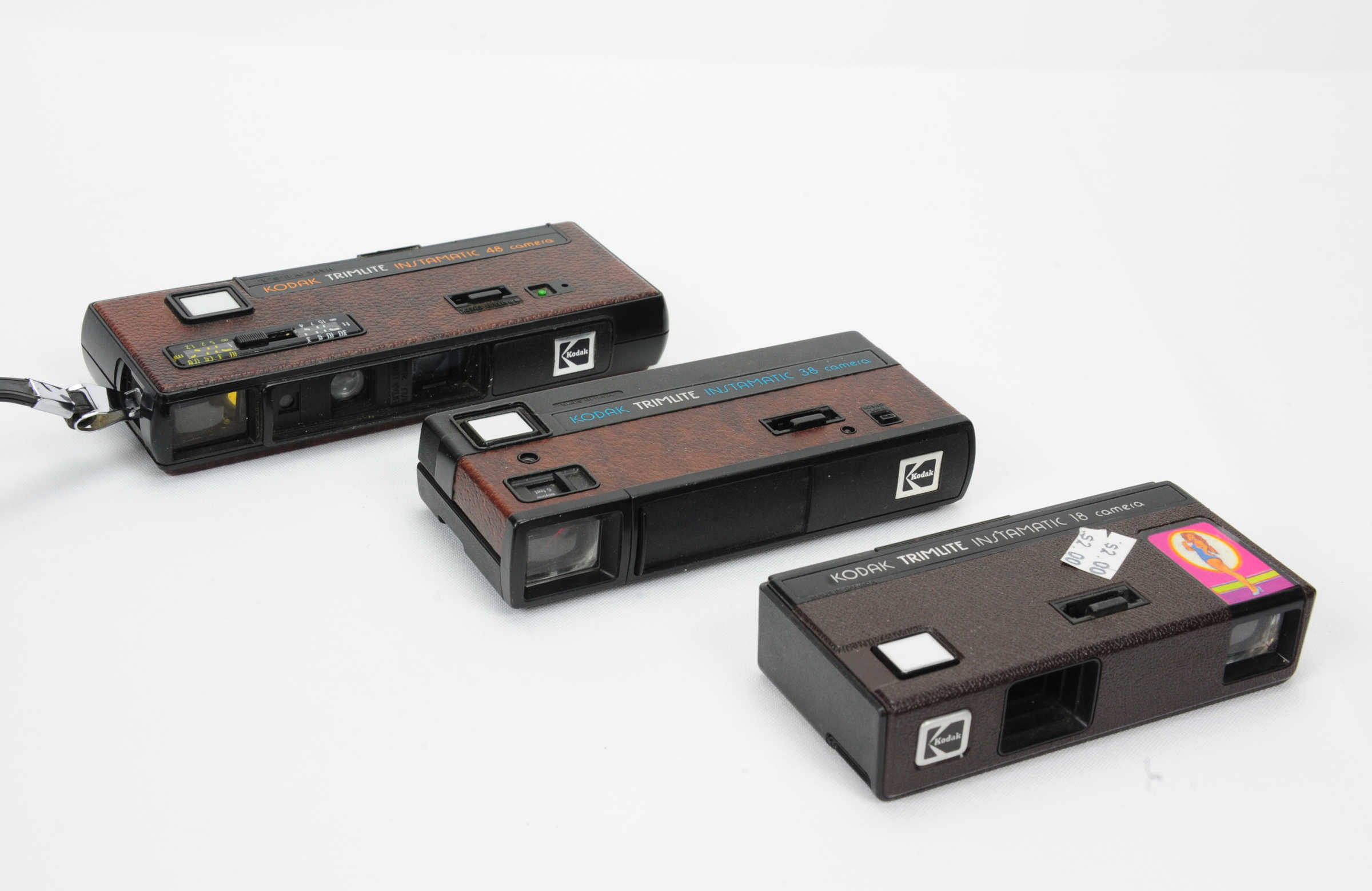 The simple Kodak Trimlite 18 has a non-adjustable f/11 25mm lens (in focus from 5' to infinity) and single shutter speed (1/90, or 1/40 when a flipflash is installed).
The mid-range Kodak Trimlite 38 has an electronically-controlled shutter (from 1/225 of a second to 5 seconds), and the 25mm, f5.8 lens can be focused in two zones: the closeup zone (in focus from 3 to 6 feet) is good for taking pictures of people, and the normal zone is in focus beyond 6 feet.
The high-end Kodak Trimlite 48 has adjustable rangefinder focus from 3 feet to infinity, and an electronically-controlled shutter. Its lens, an f2.7 26mm Ektar, is one of the best lenses available on a 110 camera.
---
Some high-end 110 cameras, like the Trimlite 48 above, are as sophisticated as many high-end 35mm film cameras of the same era. They are fully capable of making consistently excellent images, yet are still highly portable. Let's look at a few more examples.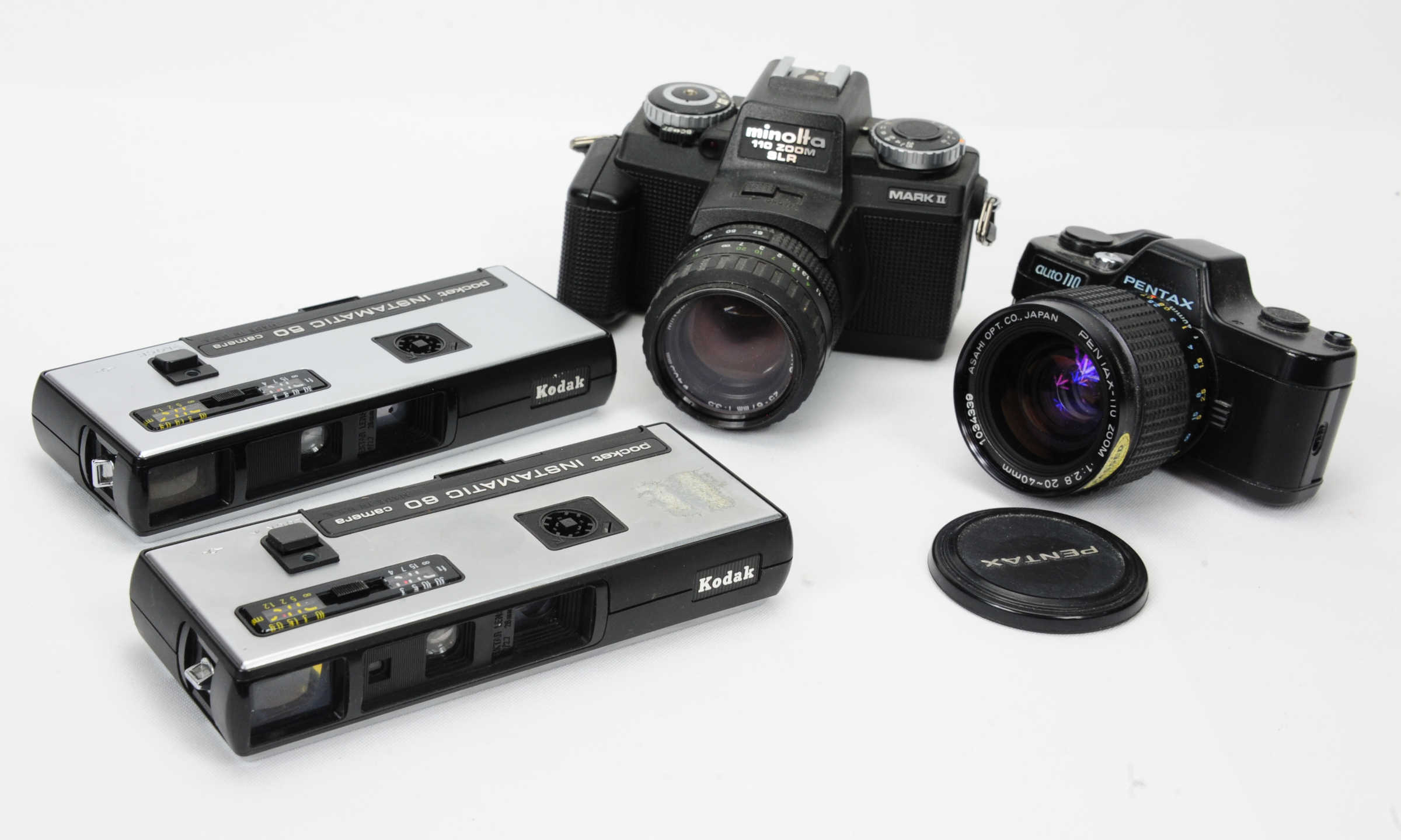 The Kodak Pocket Instamatic 50 has a 26mm focusing f2.7 Ektar lens and electronically controlled shutter. The shutter operates from 1/250 down to 10 seconds. The Pocket Instamatic 60 is virtually identical, except it has rangefinder focusing, which is much more accurate.
The Minolta 110 Zoom MkII is a true single-lens reflex. Its permanently-attached 25-67mm f3.5 zoom lens is about the same as a 50-135mm zoom on a conventional 35mm SLR. Electronically controlled shutter speeds from 1/1000 down to 1/4 second. The lens has a macro switch that lets you make images with a maximum reproduction ratio of 0.19x.
The Pentax Auto 110 is a true single-lens reflex with interchangeable lenses. It is undoubtedly the smallest interchangeable-lens SLR ever manufactured. There are six lenses available, from wide angle to telephoto, including a 20-40mm zoom lens (shown in the photo above). Its through-the-lens meter controls exposure, with no manual adjustments possible, between 1/750 s at f/13.5; and 1 s at f/2.8.
A bit of history...
110 "Pocket Instamatic" film cameras and cartridge films were introduced by Kodak in 1972, as a miniaturized version of their 126 Instamatic format. Competitors soon expanded the variety of cameras and films available, and the format remained highly popular for the next twenty years.
Every major film manufacturer except Ilford, and every major camera manufacturer except Nikon made products in this format. Among the film companies, Kodak and Fuji dominated the market in North America. Agfa and Ferrania, two first-rate western European firms, produced millions of rolls packaged as "house brand" films for supermarket and drugstore chains, as well as in their own branded packaging. To my knowledge, no east-bloc manufacturer made 110 films or cameras.
Kodak stopped making 110 cameras in 1994, and ended 110 film production in about 2006. By about 2009 no more 110 film was being manufactured by film factories, although stocks were supplied from warehouse inventory for several more years. Today, 110 film cartridges are sold by several specialist suppliers that assemble them with freshly-made film sourced from the world's few remaining film coating factories.