Millions of wonderful cameras use 35mm film
Frugal Photographer exists for the benefit of people who need rare and unusual film, so there is no real reason for 35mm film, which is widely available, to be offered here.
But there are exceptions. The 35mm films on this page have specific uses, and are offered at a considerably lower price than 35mm film usually costs.
Use the Mitsubishi film offered here to experiment with new techniques, new approaches, new world-views. Surprize yourself. Use it to test cameras. You can verify your camera's functions with this low-cost film just as well as with expensive, fresh, name-brand film. Use it to learn how to develop color film as black and white (it is not difficult).
The unperforated Konica films offered here lack the sprocket holes required by virtually all conventional 35mm cameras, with the exception of a few long-obsolete Canon SLRs. But unperfed film is a godsend to those of us infatuated with the long-gone 126 "Instamatic" cartridge. Perforated 35mm can be used in salvaged Instamatic cartridges, but the sprocket holes are non-authentic, intrude into the image area, and make film-advance a guessing game. With this unperforated film, all you need is a craft punch (readily available online or at scrapbooking stores), and a salvaged Instamatic cartridge with backing paper.
A bit of history...
35mm film came into being when Thomas Edison commercialized his motion picture camera and viewer. From about 1913 on, several companies marketed small cameras that used Edison's movie film for still pictures. But the format was not widely successful until the 1920s, with the introduction of the Leica camera, with its high-quality lenses and reloadable film cartridge.
Then, in 1934, Kodak introduced pre-loaded 35mm film cartridges. Now that it was no longer necessary to buy movie film and hand-roll it into a reuseable cartridge, photographers flocked to the new "candid camera" format, with its small, light 35mm cameras making unobtrusive photography affordable for just about anyone.
The Kodak cartridge, which they designated the "135" format, was invented for the Kodak Retina camera, but was engineered to fit the competing Leica and Contax cameras as well, which established it as an industry-wide standard. Today 135 cartridges are typically sold loaded for 24 or 36 exposures (1.3 and 1.6 meters of film, respectively).
Save by loading 35mm cartridges from bulk rolls
Loading your own empty cartridges at home using bulk film can save you money. You should get 19 36-exposure camera rolls from one bulk roll.
Standard metal 35mm cassettes are still available, but are becoming scarce. I am not aware of any manufacturer who still produces them for individual photographers to use for reloading. Plastic cassettes are every bit as good, and are currently available in at least two types.
Two types of 35mm cassettes
The first type (shown below) has a cap that fastens on to the end of the cassette body by twisting into place, enclosing the spool. This type has been available for many years. I call it the "end-cap type".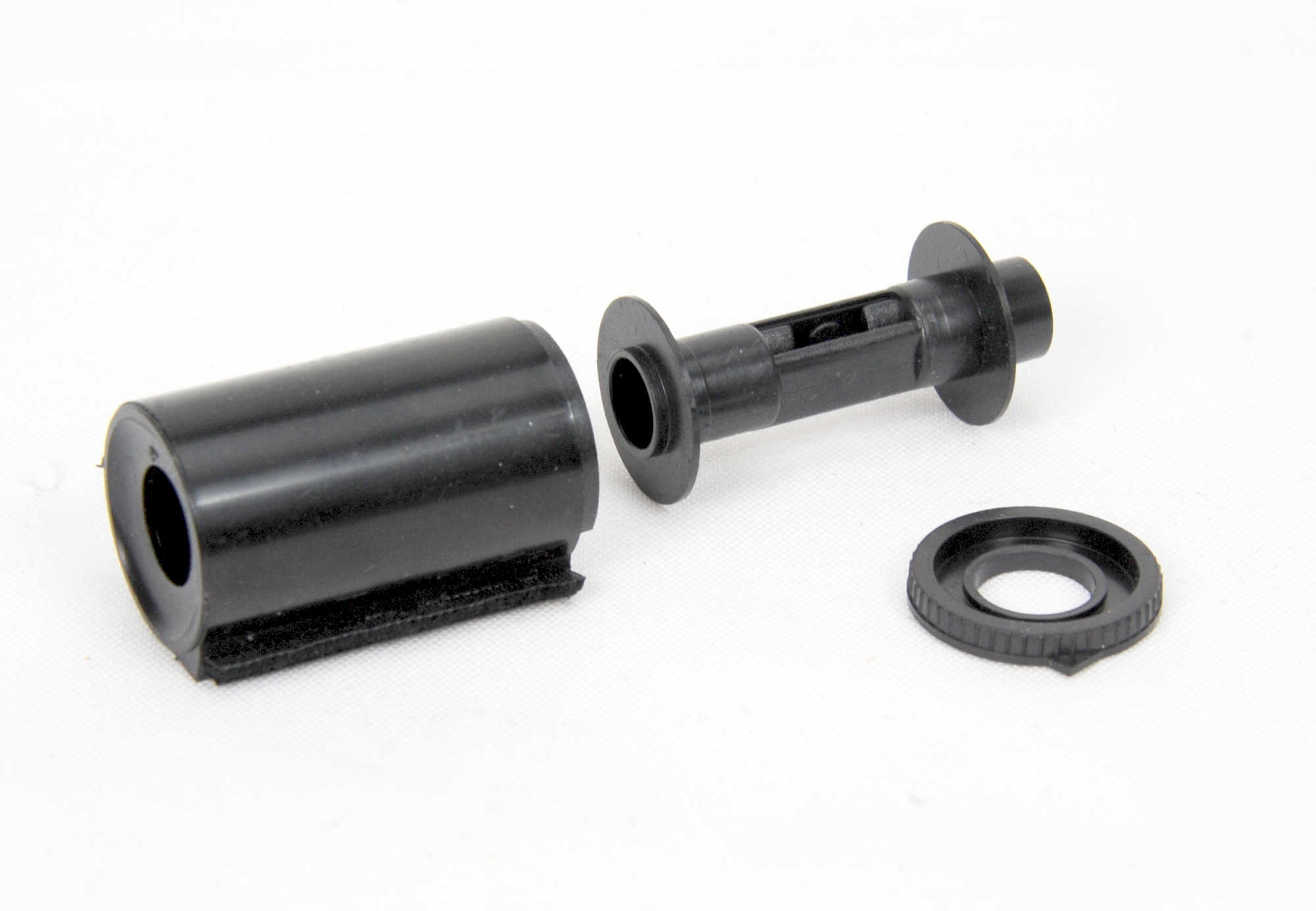 The second (shown below) is a recent development: two half-shells that clip together with the spool enclosed inside. I call it the "split-shell type".
Both types work well, but their differences are important. Keep reading to find out why.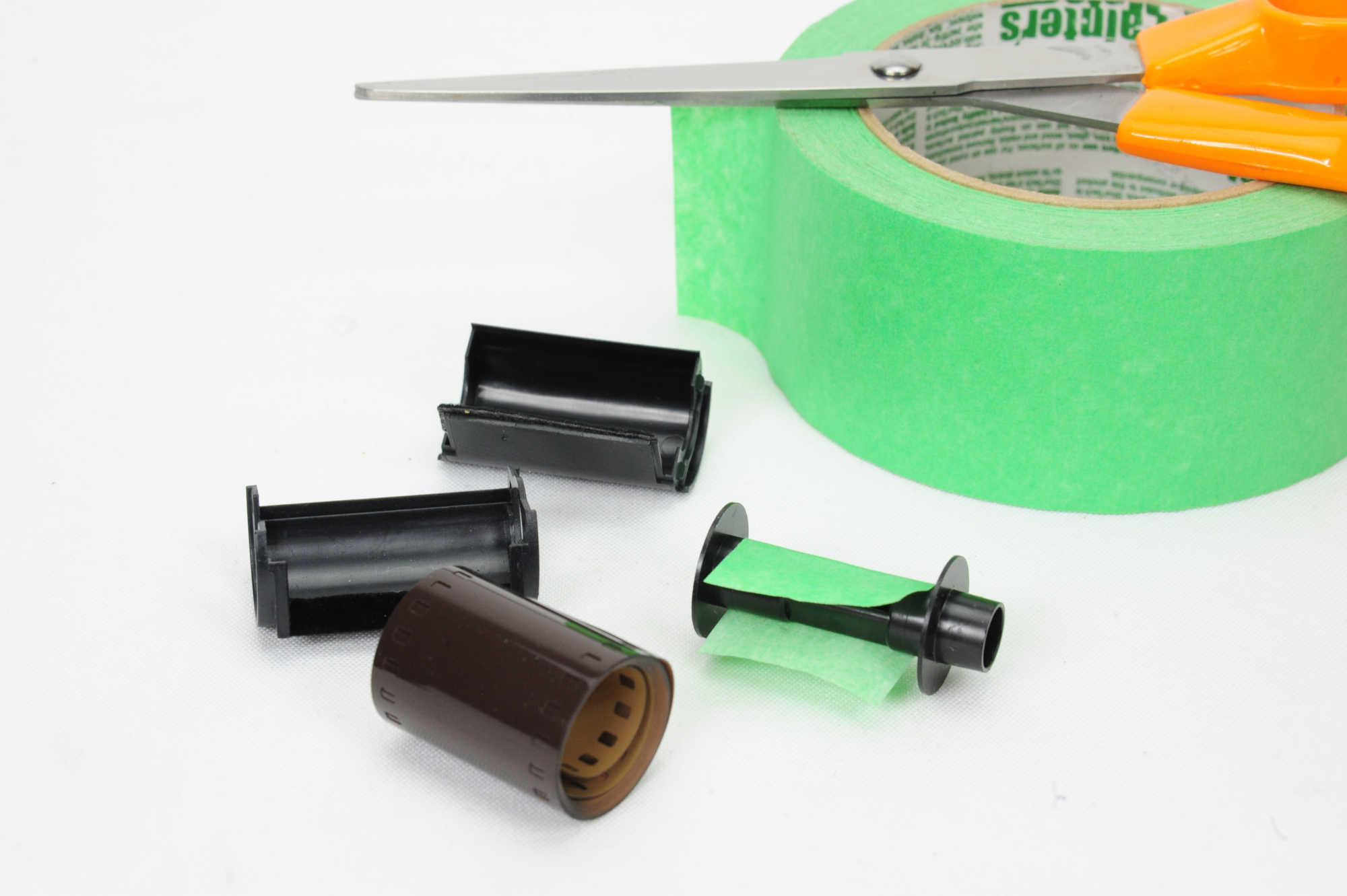 How to load your own cassettes
No matter which style of cassette you use, end-cap style or split-shell style, it is important to practice taping the end of the film to the spool in daylight. Be sure the film's emulsion side (the side that curls in) and the spool are aligned as shown in the photograph, with the spool's protruding end oriented correctly.
Practice this in room light, using a scrap length of film, until you can do it easily with your eyes closed.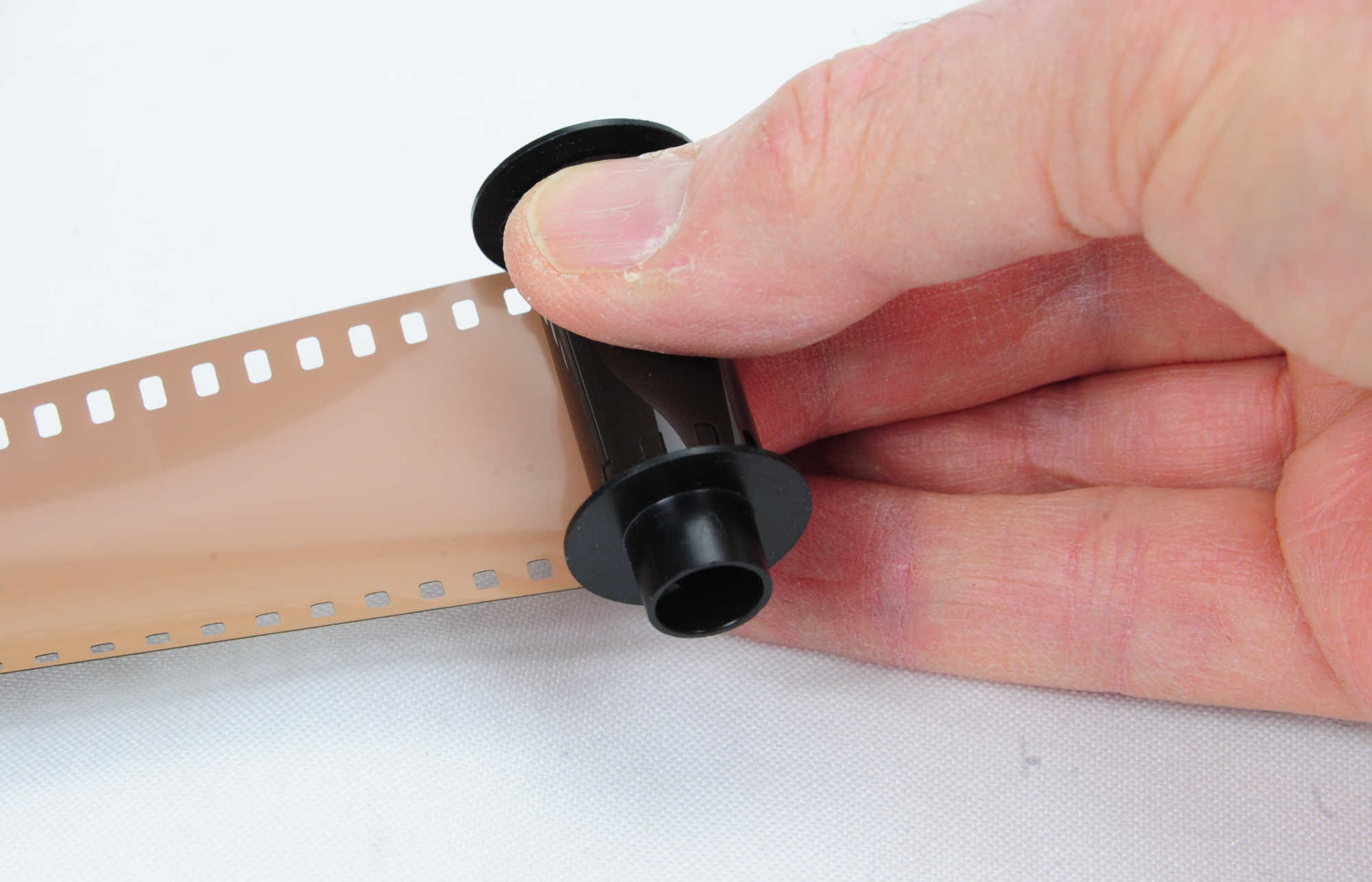 The end-cap style cassette is easy to assemble in total darkness. The split-shell type is difficult to assemble unless you can see what you're doing, and it works best if you're using a daylight loader.
Spooling your film by hand in the dark
You will need a dark bag, to protect your film from light. You will need a disassembled cassette, a piece of ordinary masking tape, scissors, and a one-foot ruler.
In the dark, use the ruler to measure out 5-1/4 feet of bulk film. Pull one foot of film off the bulk roll five times, then a quarter-foot, and cut it off. Tape one end of the film to the spool.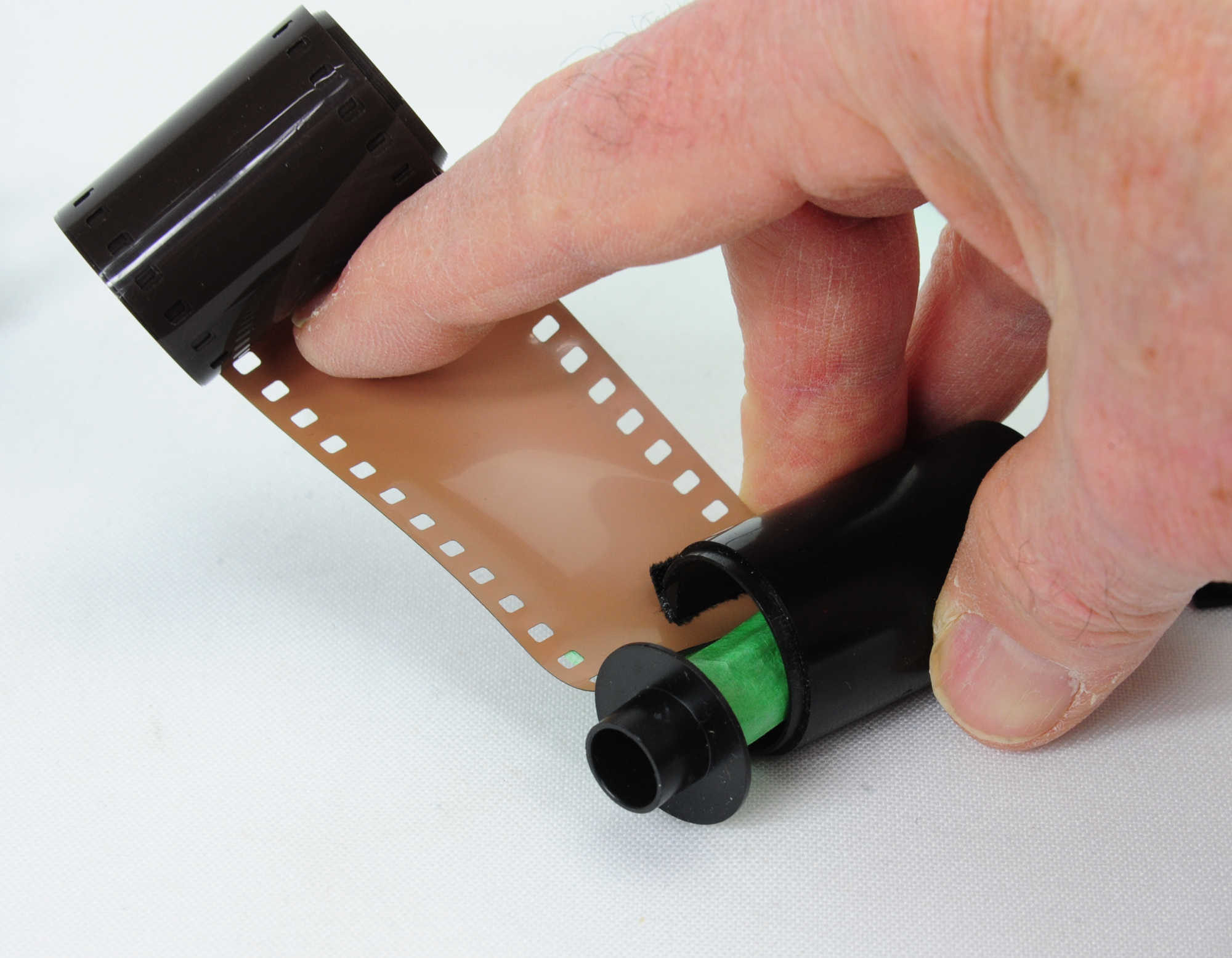 If you are using an end-cap style cassette, and doing everything by hand, you can wind the film up on the spool, insert the spool into the cassette, and assemble the cassette. Getting the film into the slot on the cassette body is the most difficult part of assembling the cassette. Only try it in the dark after you've gotten good at it in daylight with your eyes closed. You will save yourself a lot of grief and ripped film.
Spooling your film in the dark with mechanical help from a 35mm camera
You may find rolling up film in the dark with your fingers is troublesome. In that case, consider fitting the spool into the rewind chamber of a 35mm camera (the cheap thrift-store Ansco camera in the photographs fits easily into the dark bag).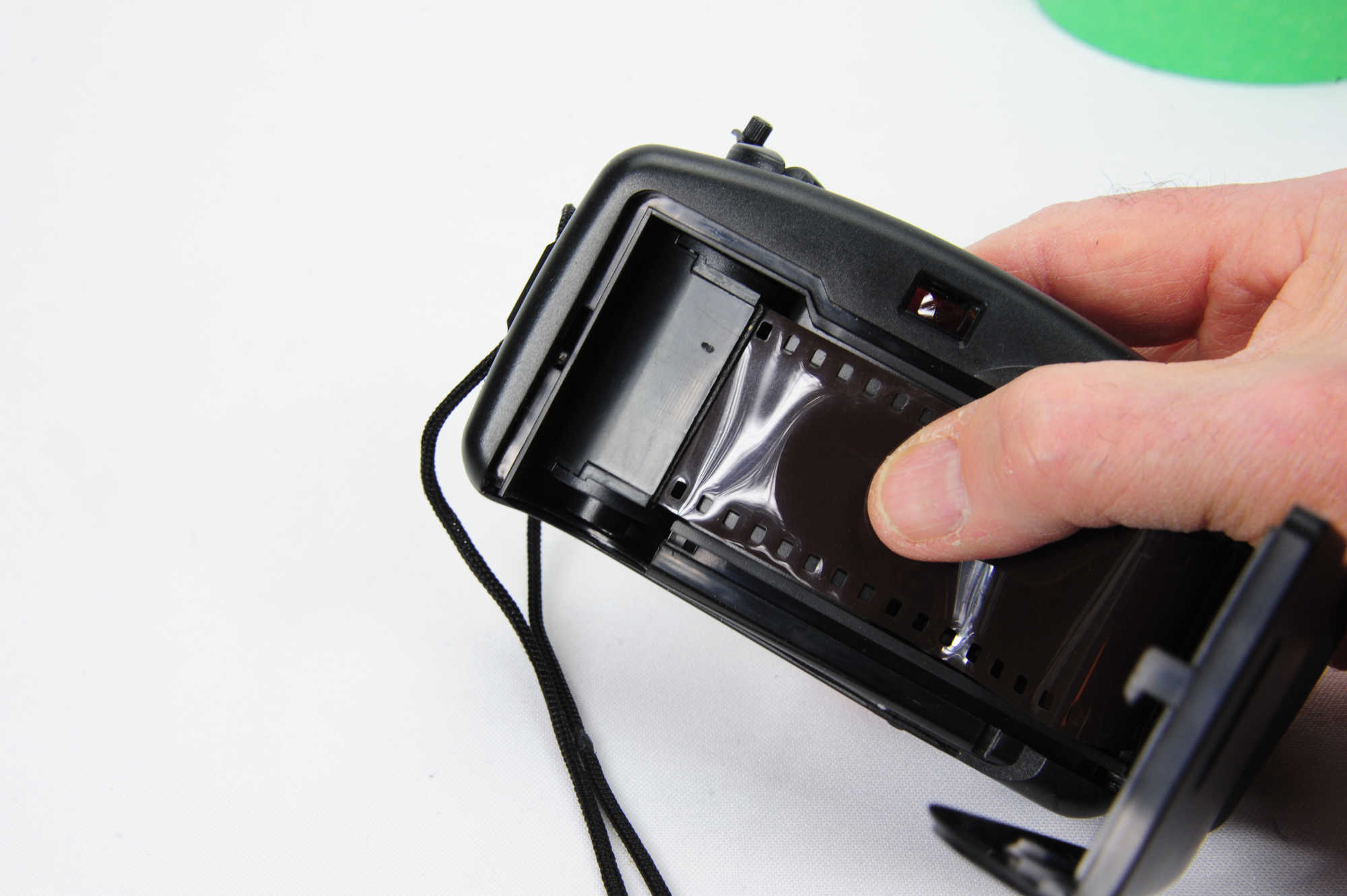 Spooling your film in room light with a loader
The split-shell type of cassette is a poor candidate for spooling film in a dark bag by hand. It is difficult to assemble the cassette in the dark.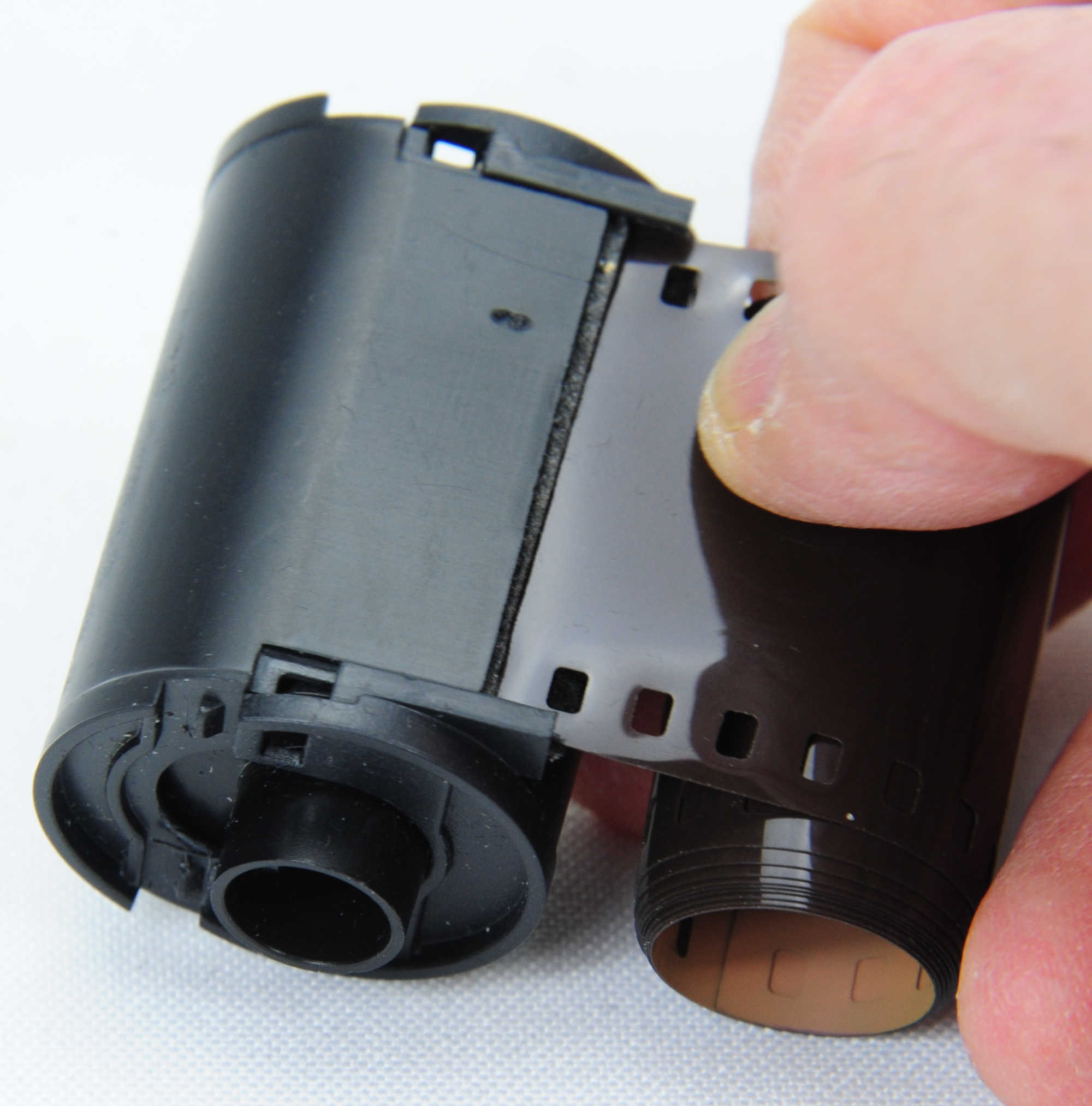 As you can see in the detailed photo, the lip of one shell must slide precisely into slots on the lip of the other shell, and then the two shells must be precisely aligned to allow everything to click into place. It's better to use a daylight loader with this kind of cassette.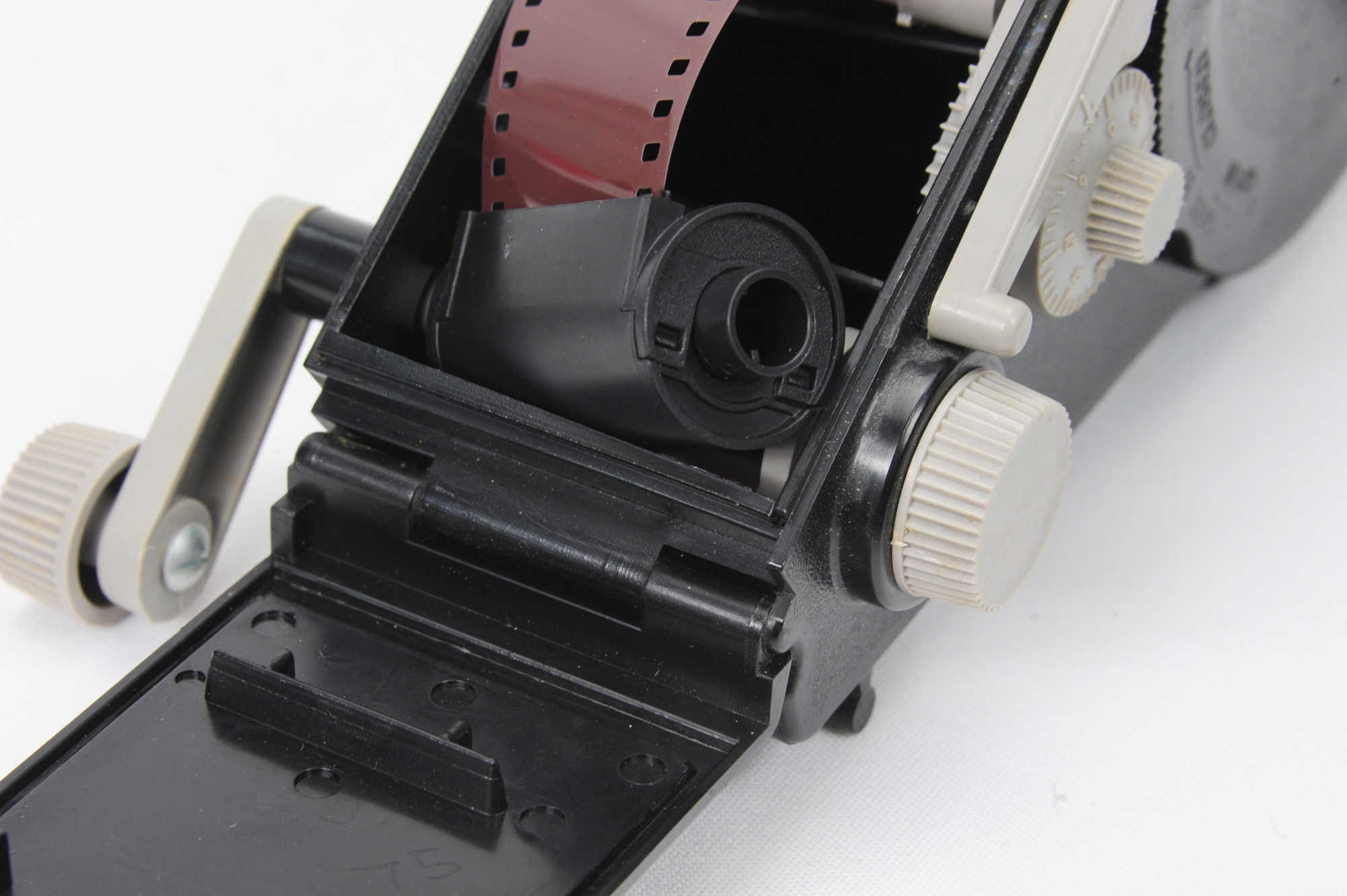 A daylight loader protects the bulk roll of film from light while letting you tape the end of the film to the spool, and then clip the spool into the cassette, in room light. Only a few inches of the end of the film are fogged. With a little practice this becomes routine. There are several types of daylight loaders available, new and used. The Watson loader shown was made decades ago by Burke and James, and is often available online for under $50. It is well-made and should last a lifetime.