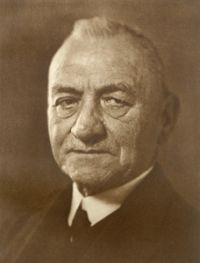 Baron Arthur von Hübl, the Austrian military officer who devised this formula, was an accomplished photographic engineer. He pioneered the use of photography, particularly stereo photography, in mapmaking. With his colleague Captain Giuseppe Pizzighelli, he co-wrote the most useful of all of the 19th-century treatises on platinum printing. His 1897 book on three-color photography and printing was very influential and remains an excellent, if dated, introduction to the subject. von Hübl experimented with Glycin extensively.


This Glycin formula, adapted from Anchell and Troop, is said to be the most concentrated developer known. Like all glycin developers, it shows good resistance to aerial oxidation.
 
Hot water (50-55 C), 500ml
Sodium sulfite (anhydrous), 165g
Glycin, 135g
mix well and add gradually
Potassium or sodium carbonate, either crystals, 625 g or anhydrous, 560 g
Water to make 1 litre
Another version of this formula, from Wall's Photographic Facts and Formulas (American Photographic Publishing, Boston, 1924):
Warm water, 400 ml
Sodium sulfite (anhydrous), 125g
Glycin, 100g
mix well and add, gradually
Potassium carbonate, 500g
water to make 750 ml

This developer is not an actual paste, but it is quite thick. So thick, in fact, that you will probably never be able to get it completely dissolved. It forms a suspension that should be thoroughly stirred before being diluted to make a working solution.
I find sodium carbonate works as well as the more expensive potassium carbonate. Even though their markedly different molecular weights would suggest you should use them in different quantities, the potassium ion is more photographically active, and the difference in activity pretty much compensates, so you can substitute weight for weight.
Anchell and Troop state that Potassium Carbonate crystals (the "sesquihydrate" form) are required because they contain a buffer. I find that anhydrous form works just fine. The crystal form's molecular weight is 165 and the anhydrous is 148, so a fastidious worker will substitute 560 grams of the anhydrous for 625 of the crystals.
I had success using it as a 3-hour stand developer with microfilms, but sorry to say I didn't make notes of the dilution I used. I think it was 1:50. The image was striking but contrast was not reduced as much as I wanted.
Gordon Cooper has tested Hübl Paste with conventional films, and reports: "My dilution for stand development is 1:70 for 90 minutes. The negative has a fair amount of color to it which hasn't affected contact prints for me. I think that the film loses about one stop of speed with this developer."
Glycin is manufactured by Photographer's Formulary in Condon, Montana. I believe they are the only manufacturer of Glycin remaining in the world.